The Superpowers of Vitamin D
Nov 27, 2014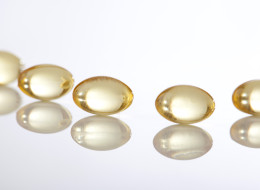 Have you been watching the meteoric rise of vitamin D? Long ago I knew D as essential for regulating bone metabolism and protecting bone health, but today the list of D's benefits is an ever expanding one. At last count, it included not only bone health but protection against arthritis, Alzheimer's, asthma, multiple sclerosis, falls, fractures, depression and some cancers. Recent reports also indicate that higher blood levels of D are linked to better outcomes post-surgery. Lower levels of D in patients with lupus can mean an increase in risk of heart disease.

full story . . .

Questioning Medicine: The Vitamin D Craze
Nov 27, 2014

Now that the vitamin D research fires have begun to die down, I wanted to look into this apparent health fad to see what, if any, evidence came from the intense focus on this particular supplement. In 2012 alone, there were more than 3,600 publications in PubMed on vitamin D: opinion articles, small studies, large studies, evidence reviews, and meta-analyses. Then a review of the meta-analyses with a little "expert opinion" to top things off.

In the end, I think an overwhelming lack of definitive evidence was, in and of itself, the conclusion. We did, however, learn a few things about screening for hypovitaminosis D, potential outcomes associated with it, and potential benefits from treatment.

full story . . .

Vitamin D: NICE advice to at-risk groups
Nov 27, 2014

More people should be given vitamin D tablets to counter a hidden epidemic of deficiency, a report says.

The NHS advisory body, the National Institute for Health and Care Excellence (NICE), says 10 million people across England could be deficient, and many are unaware.

Its report says children should get free supplements and calls for supermarkets to sell low-cost tablets.

Deficiency can result in rickets and brittle bones.

full story . . .

On vitamin D, the so-called experts have it wrong, U.K. researcher says
Nov 26, 2014

There is little chance of leading a truly simple life today because so much of it is done with the advice of experts. With food, we are bombarded with nutritional tips; and there is no shortage of instruction on how to bring up our children.

We tend to believe the advice of people with a good track record and evident qualifications. But sometimes they get it wrong, sometimes they disagree, and that is where the simple life ends.

full story . . .

Low Vitamin D Tied to Higher Death Risk
Nov 25, 2014


Many observational studies suggest that low vitamin D levels are associated with an increased risk for disease, but it is not clear if low vitamin D is a cause or an effect of poor health. Now a new study, using a technique called Mendelian randomization, provides persuasive evidence that low serum vitamin D itself increases the risk of death.

For the study, published in BMJ, researchers used data from Danish government health records on 95,766 subjects. All were tested for a genetic variant that reduces their vitamin D levels, and 35,334 also had their vitamin D serum levels measured. There were 10,349 deaths over the course of the study, from 1981 to 2013.

full story . . .
Vitamin D Deficiency Associated With Colorectal Cancer
Nov 18, 2014
full story . . .
Events
Books

Susan Rex Ryan
Defend Your Life


Defend Your Life has three main sections. The first addresses the fundamentals of vitamin D3 and its awesome benefits as well as minimal risk. The second highlights select diseases and conditions about which vitamin D3 may offer protection. The third includes the author's personal vitamin D3 story, including her theory about adequate vitamin D3 levels and how you can 'Defend Your Life'.

Reading this book will help you understand how adequate amounts of vitamin D3 are essential to enhancing your quality of life.




Ian Wishart
Vitamin D: Is This the Miracle Vitamin?


In this compelling new book,award-winning investigative journalist and bestselling author Ian Wishart brings together the most up to date science on vitamin D and how it could well save your life. Cancer? Up to a 77% reduction in risk of developing it if you take this vitamin. Heart disease? The same kind of reduction. Did you know that autism, mental illness and multiple sclerosis all appear to be caused by a lack of vitamin D during pregnancy?

The lives of every single person, including you, will be affected by the information in this book. With more than 300 scientific trials and studies cited, this book is a reference guide not just for the general reader but for medical professionals alike.




John J. Cannell, MD
Athlete's Edge - Faster, Quicker, Stronger with vitamin D


John Cannell, founder and executive director of the Vitamin D Council, provides a new perspective on the vitamin D story revealing a long-held secret once known only to Eastern European athletic trainers.

Vitamin D, the sunshine vitamin, improves muscle tone, muscle strength, balance, reaction time and physical endurance, as well as immunity and general health. In addition, ideal levels of vitamin D help protect you from a staggering array of chronic diseases such as cancer, heart disease, hypertension, diabetes, multiple sclerosis, asthma, autism and even influenza.




more books...