Can Vitamin D Deficiency in Children Affect the Severity of Illnesses?
Jan 15, 2018

A recently published systematic review and meta-analysis assesses the prevalence of vitamin D deficiency in children admitted to the pediatric intensive care unit.

Vitamin D is a regulator of calcium levels in the body. A deficiency in vitamin D levels correlates with many skeletal conditions and has been identified as a cause of conditions such as hypocalcaemia, an electrolyte imbalance characterized by low levels of calcium in the blood. The deficiency affects the pathology of the brain, cardiovascular system, respiratory system, and immune system. Due to the vital role of these systems in critical illnesses, a vitamin D deficiency in children can have a significant impact on the treatment and onset of several diseases.

A Canadian review study published by Critical Care compared the vitamin D status of patients in the pediatric intensive care unit (PICU) with the vitamin D status of healthy individuals of the same age. The study also assessed the contribution of vitamin D deficiency in children towards increased critical illness and mortality.

full story . . .

Reduced sunlight may contribute to winter weight gain
Jan 10, 2018

We may have a new reason, in addition to vitamin D generation, to bask in a little sunshine.

A breakthrough study by University of Alberta researchers has shown the fat cells that lie just beneath our skin shrink when exposed to the blue light emitted by the sun.

"When the sun's blue light wavelengths—the light we can see with our eye—penetrate our skin and reach the fat cells just beneath, lipid droplets reduce in size and are released out of the cell. In other words, our cells don't store as much fat," said Peter Light, senior author of the study, who is a professor of pharmacology and the director of the U of A's Alberta Diabetes Institute.

"If you flip our findings around, the insufficient sunlight exposure we get eight months of the year living in a northern climate may be promoting fat storage and contributing to the typical weight gain some of us have over winter," added the Dr. Charles A. Allard Chair in Diabetes Research.

full story . . .

High doses of vitamin D rapidly reduce arterial stiffness
Jan 02, 2018

In just four months, high-doses of vitamin D reduce arterial stiffness in young, overweight/obese, vitamin-deficient, but otherwise still healthy African-Americans, researchers say.

So researchers looked at baseline and again 16 weeks later in 70 African-Americans ages 13-45 - all of whom had some degree of arterial stiffness - taking varying doses of the vitamin best known for its role in bone health.

In what appears to be the first randomized trial of its kind, they found that arterial stiffness was improved by vitamin D supplementation in a dose-response manner in this population, they write in the journal PLOS ONE.

Overweight/obese blacks are at increased risk for vitamin D deficiency because darker skin absorbs less sunlight - the skin makes vitamin D in response to sun exposure - and fat tends to sequester vitamin D for no apparent purpose, says Dong, the study's corresponding author.

full story . . .

Low vitamin D, muscle injuries linked in NFL prospects
Dec 21, 2017

NFL prospects with low levels of vitamin D are more likely to get serious muscle injuries, according to a study published Thursday.

The study examined 214 college football players from the 2015 NFL Scouting Combine, an annual showcase where players perform for talent scouts. It found statistically significant differences in muscle injuries, with the rate increasing with the severity of the vitamin D deficiency.

It also found a racial disparity, with low levels of vitamin D in 70 percent of the 167 black athletes surveyed. In the 47 white or Polynesian athletes, just 13 percent had low levels. Lighter-skinned people can produce more vitamin D simply by exposing their skin to the sun.

While the study doesn't prove cause and effect, the correlation is strong enough that it should be investigated further, said Dr. Brian Rebolledo, a Scripps Clinic orthopedic surgeon who helped lead the research.

full story . . .

Could a Vitamin D3 Supplement Affect Heart Failure Outcomes?
Dec 18, 2017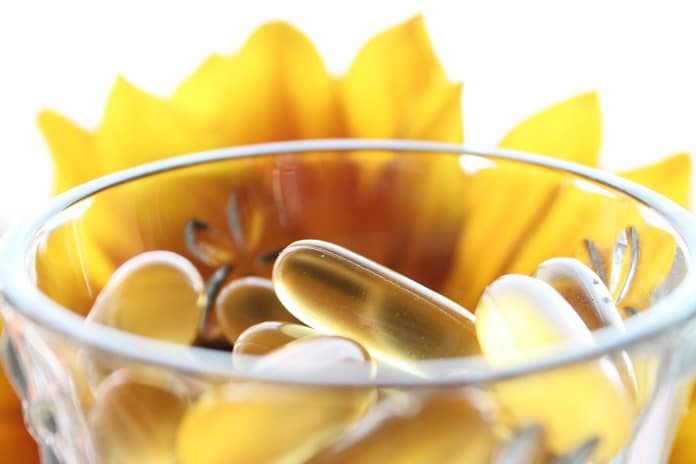 A recent study examines if a high-dose vitamin D3 supplement could replenish vitamin D stores in deficient heart failure patients.

Roughly 600,000 Canadians currently live with heart failure and 50,000 new cases are diagnosed each year. The cost of the disease burden amounts to $2.8 billion annually.1 Prognosis is generally poor with an average one-year mortality rate of 33%.2 Numerous studies indicate that a vitamin D deficiency in patients with heart failure can significantly increase the risk of morbidity and mortality, including from sudden cardiac death.3,4

Adequate clinical data on the effects of a vitamin D3 supplement in heart failure patients are not available, especially on quality of life (QOL) indices and exercise cardiopulmonary status (CPX). Both the QOL index and CPX are good prognostic markers of mortality and morbidity in heart failure patients. A recent study attempted to monitor the effects of a vitamin D3 supplement on these markers in heart failure patients. The results of the study were published in a recent issue of BMC Cardiovascular Disorders.5

full story . . .

Vitamin D levels linked to better brain health
Dec 18, 2017

FORGET brain training, crosswords and puzzles — improving your mind could be as simple as getting a daily dose of sunlight.

Melbourne University researchers have found older women who have adequate vitamin D levels have better attention, cognitive flexibility and working memory.

Dr Alicia Goodwill studied 252 participants aged 55-67 from the Women's Healthy Ageing Project to investigate the association between midlife vitamin D and cognition in Australian women.

full story . . .
Events

21st Vitamin D Workshop


May 16, 2018


21st Vitamin D Workshop

2018


Barcelona, Spain - May 16-19, 2018

event details

Blog

Canadian Winter – How can I get enough vitamin D?


Nov 10, 2017


By Perry Holman, Executive Director, Vitamin D Society

Canadians' vitamin D levels drop substantially in winter due to the lack of UVB in the sun at our northern latitude at this time of year. For November Vitamin D Awareness month, the Vitamin D Society has released a new short video to help people develop a vitamin D winter action plan.

First, let's understand why a great number of Canadians are vitamin D deficient. Until about 100 years ago, people spent a large amount of their time outdoors. Now most of us work indoors and increasingly spend our leisure time inside, drawn to the Internet, TV, video games and other passive forms of recreation. When we are outdoors, many of us follow health warnings to protect ourselves from UV exposure with sunscreen, clothing and shade.

The result is that Canadians' vitamin D levels have fallen by 13% in just six years. Approximately 14 million Canadians — 38% of the population — do not meet Health Canada guidelines for vitamin D levels of 50 nmol/L. This puts them at a higher risk for serious diseases such as osteoporosis, diabetes, multiple sclerosis, cancer and cardiovascular disease.

But it gets worse. The vitamin D level recommended by Health Canada is only half the level recommended by a large number of vitamin D experts. Forty eight scientists, doctors and researchers have recommended that everyone reach a 25(OH)D blood level of between 100-150 nmol/L. And nearly all of us, 93% of us in fact, are below these optimal vitamin D levels.

full post . . .

If you are not taking vitamin D daily - then it may not be working


Aug 03, 2017


by Carole Baggerly, Director at GrassrootsHealth

Today I have decided to get all the exercise I will need this month. So, I am going to get up, head to the gym and do 15 different sessions of cardio interspersed with 15 different sessions of my weight machines. Then, I will take a yoga class to round out the day.

Ridiculous - right?

full post . . .

Books

Susan Rex Ryan
Defend Your Life


Defend Your Life has three main sections. The first addresses the fundamentals of vitamin D3 and its awesome benefits as well as minimal risk. The second highlights select diseases and conditions about which vitamin D3 may offer protection. The third includes the author's personal vitamin D3 story, including her theory about adequate vitamin D3 levels and how you can 'Defend Your Life'.

Reading this book will help you understand how adequate amounts of vitamin D3 are essential to enhancing your quality of life.




Ian Wishart
Vitamin D: Is This the Miracle Vitamin?


In this compelling new book,award-winning investigative journalist and bestselling author Ian Wishart brings together the most up to date science on vitamin D and how it could well save your life. Cancer? Up to a 77% reduction in risk of developing it if you take this vitamin. Heart disease? The same kind of reduction. Did you know that autism, mental illness and multiple sclerosis all appear to be caused by a lack of vitamin D during pregnancy?

The lives of every single person, including you, will be affected by the information in this book. With more than 300 scientific trials and studies cited, this book is a reference guide not just for the general reader but for medical professionals alike.




more books...